Find Work With Specialist Magazines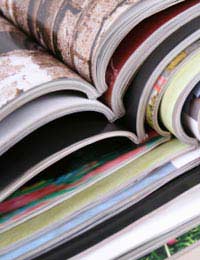 When a writer first thinks about breaking into journalism, they usually think of the mainstream media - the sort of newspapers and magazines you'll see in your local newsagent. But it can be hard to get your work into these publications when you're just at the start of your writing career.
What many writers don't realise is that there's a whole host of other magazines out there which welcome freelance articles. These are the specialist magazines, each focused on a single special interest subject, and for their editors, finding new things to say and new ways to say them can be a constant struggle.
What Sort of Specialist Magazines are there?
Specialist magazines cover subjects of all kinds, but the thing to remember is that they're designed to appeal to an audience. The more popular their subjects, the larger their circulations will be and the more they'll be able to pay. There are opportunities for specialist journalists of all kinds within this part of the media, including sports reporters, fashion writers, financial writers and literary journalists.
Since specialist magazines often have a dedicated readership which includes those with professional expertise in their subject area, you'll need to be well versed in your subject in order to impress them, even if you're writing fairly lightweight articles. For this reason it's advisable to stick to subjects you already know something about. Having a personal interest also makes it easier to keep up with changes and developments in the subject area.
The Rewards of Specialist Magazine Writing
Many journalists are deterred from writing for the specialist magazine market because they know that they can get paid more for work they successfully place in more mainstream publications. However, as a writer, it's always important to balance the amount you can expect to get paid per article against the number of articles you can place.
Furthermore, it can be especially valuable, when working in freelance journalism, to have regular work, so that you have a bit of income you can rely on. Writing for a specialist magazine, it is often possible to develop a good working relationship which means you can make regular contributions.
Developing close relationships with a small number of magazines can be especially good for the new writer, as it will give you the opportunity to work consistently with the same editors and improve the quality of your articles. It can also enable you to build up a reputation within a particular field so that, on occasions when it comes to be of interest to the mainstream media, you're ideally placed to publish on it there.
Finally, writing for specialist magazines can also be fun. The atmosphere around publications like this tends to be friendlier, as all involved have a shared interest. It can give you the opportunity to pursue you interest in ways which might otherwise have been difficult, giving you press access to major events and well known figures.
Subject Matter
When you're writing for specialist magazines, your subject matter may seem obvious, but it's really your job to challenge those preconceptions. It's always important to try and find fresh angles on what you're writing about and to make sure your writing stays lively. Consider that those who share this interest may include famous people from other walks of life, giving you the opportunity to inject a bit of glamour.
If you're writing about a hobby which uses specialist equipment, you might consider talking to the equipment manufacturers. You could try finding out where a notable figure comes from and writing about the relevant opportunities offered by their home town. Thinking outside the box will attract the attention of editors and can make you a favourite with readers, too.
You might also like...