Get Interview Access for Journalism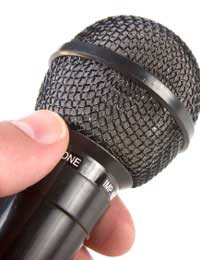 Knowing how to conduct interviews is a vital skill for a journalist, but unless you also know how to set up interviews, you're not going to get very far.
If you work in-house at a newspaper or magazine, you may be lucky enough to have an editor who can set up interviews for you, but if you're working in freelance journalism then you'll need to track down contacts and sell your pitch yourself.
However, freelance interviewing does offer you more choice of subject, so you can pursue your particular interests and take advantage of any existing contacts you may have, as well as of chance meetings.
How you pursue interviews will vary depending on whom you plan to interview, but in every case it helps to have a buyer in mind first, even if it's only an agency. Make sure that you know enough about your buyer to be able to discuss them with your subject or their agent. Many people are willing to be interviewed only if the finished piece will appear somewhere where they expect to be fairly represented.
Members of the Public
It might sound easy to interview members of the public, but in fact it can be a much bigger challenge than interviewing celebrities. If all you need is random talking heads, it's easy enough (provided you're not too shy) to simply approach people in the street until someone agrees to speak with you - you'll usually find that at least one in twenty is willing to help.
However, if you need people from a particular subgroup of the population, you may have more trouble. Whilst the internet has made it easier for you pass on requests to appropriate subjects, it has created communities which are often wary of press exploitation, from speed daters wary of being portrayed as perverts to table football fans who don't want to be stereotyped as geeks.
The best thing you can do to win people over is to provide examples of your previous work and to discuss the article you want to write in depth. It also helps if you can identify yourself with the group through a personal connection, however tenuous.
Remember that if you want to interview children you'll need to arrange for them to have a parent or guardian present. You should never approach children directly, though it can sometimes be practical to ask schools and youth organisations for help.
Members of the public who have suddenly become famous as a result of big news stories can be particularly difficult to access. Often they quickly acquire press agents who are only interested in communicating with well established journalists from major publications. The best way to work around this is to get in early and approach them through their friends, relatives or neighbours. In this case, nothing beats being there in person.
Politicians
Politicians are just about the easiest class of people with whom to arrange interviews. You can easily find their details via websites like They Work For You (http://www.theyworkforyou.com ) and Local Councillors (http://www.councillor.gov.uk).
Although they're busy people and may not be able to oblige immediately, you can often get a quote, passed on via a secretary, to tide you over. You can also try approaching politicians in the street for brief interviews, as it's pretty easy to find out where they're going to be at any given time. Their offices will often supply their calendars on request.
Celebrities
In general, the proper way for a journalist to approach a celebrity for an interview is through their agent. You can look up celebrities' agents online or at your nearest research library, though it's practical for anyone intending to develop a serious career in interview journalism to contact the major agencies every few months and request updated lists of their clients, so that the information is there when needed.
You can also approach musicians through their record companies, authors through their publishers and movie stars (and directors etc.) through the distributors of their upcoming films.
Besides this, many celebrities now have websites, forums or online journals which they pay close attention to themselves, so you can try approaching them directly there. This isn't a very sure bet if you're on a deadline, but it can offer a more personal approach if you have the time for it, helping to develop the kind of rapport which makes for a really good interview.
You might also like...