Develop a Specialist Writing Topic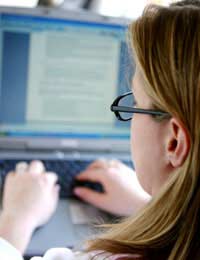 When you first set up your writing business, you'll probably be excited about the sheer range of options available to you. You may feel that your creative writing talents can easily be extended into copywriting, journalism and technical fields.
But a good writer of fiction isn't necessarily a good reporter, and potential employers will be wary if you appear to offer an unrealistic range of skills, especially when you're at an early stage in your career. How can you demonstrate dedication and focus without missing out on too many opportunities?
Focusing Your Talents
Limiting the type of writing you do doesn't mean you'll no longer have the chance to experiment with other things, but it does mean that you can concentrate on building up a particular set of skills. Pick an area where you feel you're naturally talented and investigate the market to see how much opportunity it offers.
When you concentrate on just one area, or a small number of areas, you can get to know the market really well. You'll find that the contacts you make in particular jobs are helpful when it comes to getting further jobs. You'll also learn what's expected of writers working in that area - sometimes there are unspoken rules which can only be learned from mentoring or experience.
Focusing your writing means that you can take courses or read books which help you to build up your abilities in a targeted way. You can also undertake study in related subjects - for instance, if you write fiction, you might want to take a course in literature, or if you're a copywriter you might want to study the history of advertising.
You'll find it easier to search for jobs when you're focusing on a particular area. It will be easier fir you to set your rates and promote your services.
Building a Reputation
The specialist writer, like a specialist in any trade, is an individual who depends on the development of a strong reputation. If you dabble in a lot of different writing fields you're unlikely to attract serious notice in any of them. People who read and admire your work will forget who you are if they don't see your name again for too long. Working within a limited field means that it's far easier to get noticed and to build up a reputation.
References from satisfied clients are an important means of demonstrating your capabilities as a writer. However, a reference from a poetry publisher who is pleased with your creative writing won't mean much to a newspaper editor looking for a capable sports correspondent.
Getting several references from within the same field is different and will make you look capable and professional. The very business of specialisation will also contribute to your reputation by showing that you are a focused and practical person who is serious about writing as a business rather than just trying it out for fun.
Keeping Your Options Open
Specialising in one or two areas early on in your career as a writer doesn't mean that you're closing down other options forever. You can bill yourself as a copywriter but work on a novel in your spare time, or work as a financial correspondent but write slogans for greetings cards on the side. A specialisation simply means that you put a certain sort of work first and you organise your promotional efforts around that area.
Once you've built up a reputation in a certain area, diversification becomes more practical - you can move on to claim a second or third area of specialisation. When you're well known in one area, you can use that reputation to help you break into another.
Specialisation is a practical way to focus your talents and improve the impression you make. It may mean that you're applying for fewer jobs, but it will increase your chance of getting them. It's a highly effective marketing tool and it gives you the opportunity to stand out as a highly capable professional rather than fading into the background as yet another Jack-of-all-trades.
You might also like...