Work With a Newspaper Editor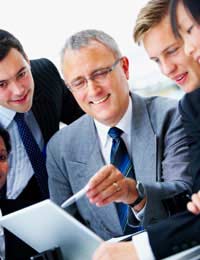 If you're involved in journalism, whether you're a freelancer or a staff reporter, sooner or later you're going to have to work with a newspaper editor. The news media operate in a high-pressure, fast-moving environment, where survival depends on team co-ordination, and it's the newspaper editor's job to oversee that.
Because of that, writing for newspapers requires not only hard work and talent, but also a willingness to listen to instructions.
Voice
When you work in freelance journalism, your voice is your own, but when you work in the news media the opinion you express must be that of your publication. Your editor will explain how you are to pitch your articles so that they fit in with the newspaper's political attitude and sense of humour, as well as being suited to the educational level of its readers.
Unless you are writing features, in which case the subject will be discussed before you begin, you should avoid expressing personal opinions in your articles - that is the prerogative of the editor.
Newspaper Teamwork
The teamwork required to make newspapers come together starts with house style. Every newspaper has a slightly different style, so it's important to find out about this when you first get involved. The house style you're asked to use may conflict with what you've used at other newspapers and even with your notions of proper grammar, but it is essential that you stick to it anyway. Although sub-editors are available to tidy up your work, giving them too much extra work to do will make you an unpopular employee and will reduce your chances of working there for long.
Also of vital importance to newspaper teamwork is meeting deadlines. Ironically, this is often less of a problem on big newspapers, where most articles must be ready within just one or two days, than in local newspaper journalism where a week-long turn-around time can give writers the opportunity to lose track of what they're supposed to be working on. Smaller newspapers tend to have less flexibility, with less alternative material available to them to fill last-minute gaps, so timeliness and professionalism is all the more important.
When you are given an article by a newspaper editor, it's extremely important that you stick to your word count as closely as possible. The finished item will need to be able to fit into the space which has been assigned to it.
Flexibility
When you work in newspaper journalism, you need to be willing to pursue whatever stories your editor passes to you. This may include subjects which you find boring or distasteful, or which you simply don't know where to begin with. The fast pace of news writing doesn't allow time for writers to be fussy.
This is where your networking efforts can pay off. If you have colleagues who know a particular subject better, you can ask them for research tips and advice. Alternatively, look at back issues of the newspaper to see how stories of that type have been handled previously.
If you're struggling to come up with anything for a particular story, don't be afraid to ask your department editor about it. Sometimes stories do dry up after they've been assigned. In this case you'll usually be given something else. If you've already finished a story which, it turns out, can't be used, you'll usually be paid a kill fee for it.
Starting out at a newspaper can be nerve racking. You'll be surrounded by people more experienced than you are and it may be difficult to get the time with your editor that you feel you need. Just remember that every news journalist has been through this at some point. With patience and hard work, you'll soon get the hang of things.
You might also like...