Write for Women's Magazines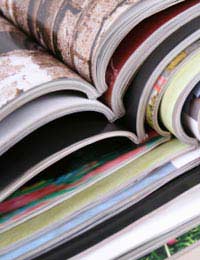 Probably the single biggest writing market you can aim for as a freelance writer is women's magazines. Otherwise known as the glossies, these magazines sell millions of copies every day and are constantly on the lookout for new material.
Although they develop a lot of their material in-house, there are always opportunities for talented freelance writers, and most of them pay comparatively well, certainly in comparison to what you're likely to be offered by most potential employers when you're new to the business.
So how can you break into the magazine article writing business? What sort of things are its editors looking for, and how can you make them choose you?
Types of Article
There are several types of article which are always in demand in the women's magazine industry. They're quite generic in nature, so if you're knocked back by your original choice of publication, you can always try another.
It Happened to Me - Human interest stories between 1,000 and 2,000 words in length, accompanied by photographs of those involved. Popular themes include serious illness, relationship problems, and being caught up in events which made the news. Where possible, these stories should have an upbeat, optimistic ending. If you have no tales of your own to tell, try ghost writing a friend's story.
Short Romance Stories - The formula for these is quite strict, but writers are advised to try and make them fresh and original - so they're trickier than they might seem! For most magazines, they should involve a heterosexual woman in circumstances readers can identify with meeting a man, experiencing a setback or misunderstanding, then discovering true love with him - all in 1,500 to 3,000 words.
Family Fiction - The same length as the romance stories above, these should focus on family relationships, particularly those between mothers and daughters. They should present a problem which involves misunderstanding between the characters and show how they come together to achieve a positive outcome. Problem pages can be a great source of inspiration for writing these, but don't make them too sensational.
Funny Stories - Most women's magazines welcome light, humorous 150 to 250 word true life stories about topics such as children, pets and embarrassing situations. The pay isn't great, but they're not difficult or time-consuming to write and they can help yo build your portfolio.
Tips - Simple pieces of advice, 100-200 words in length, about common household problems and tasks. Pay is minimal but you can usually send in several tips at once.
It is sometimes possible to place other types of article in these magazines, but the above are a good place to start.
Getting Your Style Right
Getting the right tone in women's magazine article writing is essential and can take quite a bit of practice, though you'll find it easier if you read such publications regularly. Most adopt a lightweight, conversational style which hints at personal familiarity, assuming a certain set of things in common (such as expectations of male behaviour, experience of children and concerns about gaining weight).
Despite the formulaic nature of most such magazine article writing, it's important to realise that the readers aren't stupid, and to avoid talking down to them. You should also be aware that most of them have a degree of political concern about women's rights, even if they don't articulate it as such.
They may be interested in emphasised femininity and sometimes frivolous entertainment, but they are also interested in having careers and in asserting their social freedom. Articles which provide examples of injustice faced by women, in Britain and abroad, are often popular, though even with serious pieces like this you should make sure your style doesn't come across as too dry.
Avoid long, complex sentences and try to write in a manner which is both elegant and fluent without resorting to unusual words.
Writing successfully for women's magazines takes practice and patience, but once you've broken into this market it can prove very lucrative. It's a highly practical choice for any writer, whether or not you choose to make it the main focus of your career.
You might also like...