Write Good Marketing Copy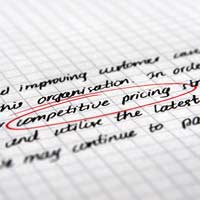 If most of what you do in a writing business is about hard work and skill, advertising copywriting is an art. Learning how to be a successful marketing copywriter is hard - indeed, some advertising companies will tell you that such people are born rather than made.
But if you've got that talent in you, there are things that you can do to bring it out. And as you learn to write better marketing copy, you'll find that your general writing skills get a real boost, too.
Every Word Counts
Being a good writer of general fiction or articles won't necessarily make you a good copywriter. If anything, advertising copywriting is closer to poetry - it's about creating an evocative message in compact form. Some people dismiss copywriting of this sort as easy because you'll generally be given assignments with short word limits, but in practice these can make your job harder. You'll need to put across all the important information in as short a time as possible, keeping the emphasis on the important points.
To be successful, copywriting needs to give the reader a sense of empowerment. This doesn't mean it always needs to be positive - sometimes a piece will start by sympathising with the reader over a common problem, such as increasing interest rates - though it generally needs to end on a positive note, presenting the thing you're marketing as the solution.
Try to use active verbs which create a sense of movement and dynamism. Avoid complex sentence construction - what you say needs to have impact. Make sure that important words - such as the name of your employer's product or service - take a prominent position in every sentence they appear in.
Know Your Target Market
Copywriting is never produced in a vacuum - it is always intended for somebody. Understanding that somebody is the key to getting it right. Think of it this way: you'd be more likely to listen to a friend than a stranger, and you'd be more likely to make friends with somebody who seemed to have lots in common with you to begin with.
A good advertising copywriter will understand your age, sex, class, home town, politics, family issues, moral concerns and favourite ways to spend Saturday. A brilliant copywriter will understand all this and be able to personally identify with it whilst writing. In this way, copywriting is like acting, and it requires a lot of imagination.
Even beginner copywriters, who have less opportunity to develop these talents, can benefit from thoroughly researching their target market before they start work. They can get an idea of what makes those people excited, of what they want to hear. They can also figure out what to avoid mentioning, to avoid pushing negative buttons.
This can be trickier than it sounds. What evokes positive feelings in one target market may evoke negative ones in another - for instance, consider the different ways that doting grandparents and career-focused young people are likely to respond to children.
Marketing copy should ideally be kept as simple as possible. However, the balance of this also depends on your target demographic. You don't want them to think that you're being patronising. If possible you want to use some longer words to show that you respect their intelligence, but it's vital that you avoid using words they don't understand. People are naturally suspicious of advertising and if they can't understand something they will always assume that this is because the advertiser doesn't want them to, and that they're somehow being lied to.
Slogans & Buzzwords
In general writing parlance, a buzzword is a word which grabs the reader's attention and/or carries a lot of emotional weight. In marketing, the usual selection of buzzwords expands to include the name of the product or service you're advertising plus any particular concepts you wish to associate with it (for instance, if you're selling a bathroom cleaner, you might want to add 'clean' and 'fresh' to your repertoire).
Remember, however, that unless you are producing SEO copy you should not be scattering these buzzwords throughout your work. You should be using them where they have maximum impact - at the beginning and end of paragraphs, and close together.
As an advertising copywriter, you may be asked to work a slogan devised by somebody else into your writing, or you may be asked to develop a slogan of your own. The ideal slogan is short and punchy. It uses linguistic tricks like alliteration and assonance. It is rhythmic and easy to pronounce, the sort of soundbite which sticks in your head. The slogan is the apex of the copywriter's art. Practice creating slogans for your own products and services to get yourself ready for the real thing.
You might also like...