Write a Press Release to Promote Your Business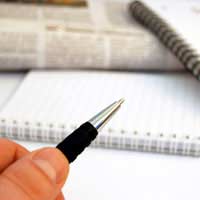 Often small businesses flounder in a tough marketplace because they lack strong communication skills and have no idea how to go about things like issuing a press release or organising press release distribution. As the owner of a writing business, you have a big advantage in that you can use your writing skills to your own advantage.
Many creative writers produce novels and similar works only on a casual basis and don't have the promotional skills to make them a success. Having the skills for writing a press release and knowing how to communicate with the media can help to make your writing products big news.
Announcing Your Work
To get the attention of the media, you need a hook. The simple fact that you're written something really isn't news, as lots of people produce books every day. To bring it to the attention of the general media, you need to relate it to something which does have news value. To an extent you can plan this in advance.
You might get lucky and have a story come up which just happens to resemble what you've written, but you can also construct your press releases so that they tie in with upcoming events such as major film releases, planned demonstrations, big sports events or the release of controversial studies.
Make sure your hook appears within the first two sentences of your press release so that journalists will hang onto it, figuring that it might be useful. If you're lucky, it'll then be added to the pile of potential filler material to accompany the forthcoming story.
If you want to advertise your writing business in general, you won't get it in the mainstream press, but you might be successful with your local newspapers and with local business enterprise magazines. Publications like these are often short of stories and will be open to anything which is well presented and looks like it will offer sufficient material.
To attract the attention of journalists in these areas of the media you should make early reference to a local angle. Adding a personal angle (such as the story of your struggle to get your business off the ground) can also be effective.
Press Packs
If you hope to draw a lot of media attention to your work, it can be useful to create a press pack. You can offer this online via your website and can print out a version to post to people on request - you can refer to this in your press releases. It can also be useful to store your past press releases (just the dates and statements, not the whole things) on a special press page on your website.
A press pack should contain professional quality portrait images of you, at least 200dpi. A picture of you at work or engaged in an activity related to what you write about is also useful. This is the place to supply a list of your published work (best organised by category) and any biographical details which you're comfortable having made public. Make sure you have the permission of any family members before you mention them.
You can also include newsworthy material related to the work you are promoting in your press pack. For instance, if you're sending out press releases about a crime novel, your press pack might include police statistics on similar crimes. This makes the journalist's job easy and thus makes the journalist like you, which is the first step towards getting good coverage.
Things to Watch Out For
Writing a press release about your own work might sound easy, but in fact it can be quite a challenge. You'll need to use you imagination to put yourself firmly in the position of the reader at the media end of things. Remember that this person will probably know nothing about your work before picking up the press release. Try not to make assumptions about what must be well known or obvious. Remember that a press release should always be easy to read.
Above all, it's important to stay professional. Don't let your own excitement about your work interfere with the clarity of your message. For the purposes of writing the press release, treat that work as if it belonged to someone else. Be your own employee, and make sure you do a job your employer can be proud of.
You might also like...