Beating Writers' Block: An Action Plan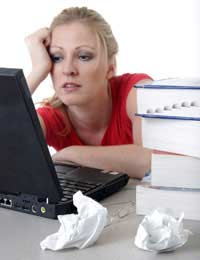 It's often said that everybody has a book in them, but what if your book won't come out? Sooner or later, every writer finds themselves in this position, staring at a blank page. But you don't need to let it defeat you. Just follow these ten simple steps and you can get your imagination going again.
1. Leave your desk
If staring at the page isn't working, staring at it for longer won't work any better. Walk around a bit. If possible, go outside for a brisk walk or a bike ride. When you return, you'll feel refreshed and will find it much easier to think clearly.
2. Clear your mind
Some writers find that meditation helps with this; others spend fifteen minutes with a good book, or listen to the radio. Just as a perpetually tensed body becomes prone to cramp, a tense mind ceases to function properly. Let your thoughts flow more naturally and they'll have room to develop into new ideas.
3. Get something to drink
Fruit juice is a great pick-me-up and can kick-start your brain. Often people don't think clearly because they have become dehydrated. You may experience this as general stress. Fix the problem rather than just trying to battle against the symptoms.
4. Tackle a different part of the project
Are you stuck on a particular sentence or a particular scene? Leave a clearly marked gap (highlighting it in a different colour works well) and return to it later. It'll be easier to fill in once you have more context for it.
5. Draw on ideas from other sources
Every writer should keep a notebook with them for jotting down good ideas when they occur. When you're struggling to write, look through your notebook for inspirational points you can draw on. You may need to add an extra theme or sub-plot to your work, or draw on a new supply of reference material.
6. Ask your friends for help
It's always useful to have somebody you can contact - ideally another writer - to talk through difficulties in the writing process. You'll often find one another's problems much easier to solve than your own.
7. Ask yourself what your favourite writers would do
Sometimes by thinking like a different person, you can find different solutions. This will also help you to engage with the block as a fun puzzle rather than being intimidated by it.
8. Go back to the start
Not literally, but in terms of the mental process underlying your writing. What do you want the finished piece to say? What is your overall strategy for achieving that? Look at the problem area again in the context of this strategy.
9. Settle for second best - temporarily!
This means writing whatever will suffice and not worrying about making it perfect. You can come back to it later when you're polishing the whole document. Once you've written a simple version you may find it much easier to edit that than it was to come up with your ideal version all in one go.
10. Avoid blaming yourself
Everybody gets writers' block sometimes. Sometimes the anxiety it generates can itself get in the way of successful work. Try to cheer yourself up by thinking of nice things people have said about you, especially in relation to your writing work. When you're feeling better, you'll be able to deal with your problems much more effectively, and that block will lose its power over you.
You might also like...