Is There a Market for Poetry?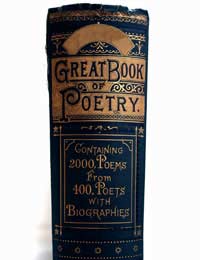 "There's no money in poetry, but then, there's no poetry in money, either," said Robert Graves in 1962. His statement is still largely correct. There are ways to make money from writing poems now, but they're not the purely artistic works he was probably thinking of.
But many poets don't really care about the money. What they want is the chance to express themselves and to say important things about the world. If you've put together poetry books with this in mind, where can you send them, and will anybody read them?
Traditional Poetry Markets
Because poetry remains a beloved art, there are still organisations dedicated to its welfare, and a number of publishing houses continue to produce collections of established poetry despite the low financial returns it affords.
For the new poet, the best chance of having artistic work published comes from making submissions to anthologies of themed work. Subjects are usually simplistic, in order to appal to a wide range of popular taste, but it's up to you to use your imagination to say challenging things despite that.
Poetry anthologies advertise for contributors in literary magazines and, occasionally, on the internet. There are also numerous poetry competitions out there. Most charge a small reading fee to cover their costs, which is reasonable, but should never be more than ten pounds. Unfortunately there are organisations out there which prey on idealistic writers and make money out of them by charging over the odds.
Another popular scam is to publish a poem on a no-fee basis and then ask the author to spend money buying copies of the anthology for themselves and their friends. You shouldn't take this as a compliment on your work - all it celebrates is your gullibility.
A legitimate anthology may not be able to pay you, but you will usually receive a free copy and you will always be offered a byline in which you can promote your other work. Publishing poetry in collections like this can increase your chances of getting short stories and essays into the literary magazines, which in turn can greatly boost your reputation as a writer.
Internet Poetry Publishing
These days, an increasing amount of poetry is being published on the internet. This is a good way to introduce your work to a sympathetic audience, but you should be aware that, because of the sheer number of internet poetry sites out there, that audience is likely to be small. However, rivalry between sites means that poets occasionally receive small payments in exchange for their work as different site owners aim to monopolise preferred authors.
Vanity Publishing
Many writers look down on so-called 'vanity publishing', where an author pays for the publication of their own work, but it can be a legitimate outlet if you have something to say which simply isn't supported by an eager paying market. The trouble with using vanity publishing to get your poetry books out there is that it doesn't provide you with distribution.
Most bookshops won't stock work produced in this way, so you'll have to market it entirely by yourself, and you may find it very difficult to get it noticed.
Poetry to Order
So if there are still paying markets for poetry today, where are they? If you're willing to compromise your artistic vision and write poetry in a simpler form, expressing other people' ideas, you'll find lots of potential homes for it. The greetings card market is perhaps the biggest.
Think about how many dedicated shops there are selling different cards all the time. Somebody has to write the verses inside them, and that somebody could be you. This is actually quite lucrative work, though it's highly competitive and requires the particular skill of creating something original from a strictly limited, over-familiar formula.
Poetry is found throughout the personal services industry, from flower delivery to birthday cake design. Some poets even make a living penning romantic verses to order for would-be Romeos who lack the skills to do it themselves. And the language skills involved in poetry are of great importance in advertising writing and many forms of marketing. Traditional poetry may only rarely be paid for, but there's a big market for poetic talent.
You might also like...