Writing Scripts for Film and Television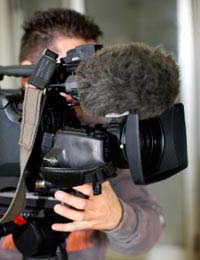 From the outside, the world of screenwriting seems like a glamorous one. There are few ways to get more attention for your writing than by having it used in film or television.
But writing scripts for the visual broadcast media is a complex art and there's a lot of competition out there. What can you do to increase the chance of your script writing being successful?
Formatting a Screenplay
Although film and television companies are regularly deluged with scripts from would-be screenwriters, a significant number of these scripts are simply thrown out because they're not correctly formatted. If you want your script to look professional and ready for us, you'll need to follow the industry rules.
Starting with an ordinary word processor page with a 1" margin at the top, bottom and right and a 1.5" margin on the left, you should use 12 point courier new font (in which one page equals approximately one minute of screen time). Start each scene with a scene heading in all caps. This should begin with 'INT.' or 'EXT.', to denote whether filming is indoors or outdoors, followed by the location and any other major details, such as whether it is day or night.
Underneath this you can write a more complex description, in mixed case, across the full width of the page. Character names should appear in all caps the first time they are used in descriptions, as they do when a character is speaking, at which point they should be centred on the page with the dialogue underneath.
Unlike with stage plays, character directions should be left indented by 3", though they still appear underneath character names and in parentheses. Dialogue begins 2.5" from the left and should be no more than thirty five characters long. These rules may seem overly fussy, but they have practical importance during shooting.
You may wish to add production directions to your script, such as 'close up' or 'fade out'. However whilst established screenwriters can get away with this it's generally frowned on in beginners. After all, you're unlikely to have as much relevant experience as your director.
Tailoring Scripts
When you're screenwriting on commission or with a particular programme slot in mind, it's important to get your script to the right length. You can start this process by breaking down your idea into scenes. The average Hollywood film contains about seventy scenes; a twenty five minute teleplay should contain about twelve. Bear in mind that scenes containing a lot of action can take up much more time on film than they appear to on the page.
Always keep in mind your target audience when you're writing. Don't include material unsuitable for children in scripts for television programmes which go out early in the day. If you want to appeal to a cinema or prime time TV audience, give them an adrenaline rush, and emotional pay-off and/or intellectual satisfaction. Make watching your work worth their while.
What Producers Want
One of the most common questions about writing screenplays concerns just what it is that producers want anyway. The answer is that they want the same thing most of us want: an easy life. If you target your script writing to make a producer's life easier, you're significantly more likely to make a sale.
The single biggest concern a producer has is budget. Scripts which depend on expensive special effects or multiple changes of location are much more daunting to take on than scripts which can be shot on a single set using ordinary equipment. It's a good idea for a first time scriptwriter to concentrate on dialogue, character and ideas rather than worrying about making a big visual impression.
Furthermore, these are the traits which tend to get a writer noticed by the critics, which can be a valuable factor in moving your script writing career forward.
Script writing is a challenging profession which will require you to be patient and hard working as well as imaginative and precocious with a good ear for dialogue - but if you can stick at it, you'll find it can be highly rewarding.
You might also like...