Marketing Your Novel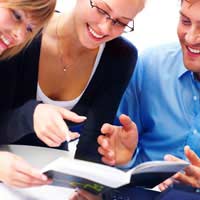 Often new writers think that when they've finished a novel and placed it with a publisher that's it - the hard work is done and they can sit back and relax or get on with the next one. Nothing could be further from the truth.
After the hard work of writing, editing and selling to a publisher comes the tough business of book promotion. If you're working with a traditional publisher you'll find that they do a lot of marketing for you, but if you want to see your work climbing the best seller book lists, you'll still need to make a contribution yourself.
Ultimately nothing encourages people to buy books like personal contact with the author. And with book promotion, as with so many other things in life, you'll only get out as much as you put in.
Book promotion should start approximately six months before your novel is due to be released. Unfortunately, you'll find that some publishers need to be nagged in order to keep you informed about their publishing time-scale and supply you with the promotional materials you need.
Getting your Novel Reviewed
It's likely that the form of book promotion you're most familiar with is the book review. Getting book reviews is much easier than many other forms of marketing, but it can take up a lot of your time, and getting reviews where it really counts can be very difficult.
When you work with a publisher, you will normally receive several review copies of your novel. Because these are limited in number, it's unwise to send them out to the first people you think of. Aim first to get them reviewed in publications with wide general circulation or with a large number of readers whose interests make them particularly likely to be interested in your work.
Don't send the books themselves as you may not get them reviewed or returned. Send a short, polite letter enquiring as to whether the reviewer would be interested. Don't beg - as a rule, people who feel the need to beg know they don't have anything worth reading for its own sake, so everyone ignores them.
If possible, find a personal note you can mention to the reviewer, such as a shared love of a certain hobby or your (restrained) admiration of an article they wrote. If you don't get a response, you may write again a month later, but you're probably better off concentrating your marketing efforts elsewhere.
If your novel is available on Amazon, make sure you get it reviewed there. Finding an online reviewer who is happy to write about your work for that purpose is relatively easy. Books without reviews on Amazon usually don't sell, as customers are limited in their ability to find out about them for themselves, and you don't want to miss out on this important marketplace.
Personal Promotion
There's nothing like a personal appearance to boost your book promotion campaign, but personal appearances don't have to be limited to book signings. Talk to your local bookshops and libraries about giving a talk there, and see if you can get involved in local book festivals. If you're visiting a different city for personal reasons, see if you can give a talk whilst you're there.
Thanks to the internet, personal appearances no longer always need to be made in person! Get to know your potential readers on public forums, encourage people to read your website, and participate in scheduled web chats and live interviews on literary sites.
Promotional Tips and Tricks
To give your novel an extra advantage, here are a few other tips and tricks for you to use.
Best seller book lists - These are not just a reward for promotion, they're a form of promotion in themselves. If you can get everyone you know to buy your book from the same store in the same week, you can yourself listed. Since many people choose everything they read from a best seller book list, this can kick-start a cycle of success.
Affiliations - Promote your book through organisations of which you are a member and let bookshops and officials in your home town know about it, as this can provide you with lots of useful cross-promotional opportunities.
National Novel Writing Month - This November event offers lots of promotional opportunities for the published writer. Try offering free (group) writing lessons or arranging to visit schools to discuss what it's like to be a writer.
Above anything else, book promotion is about getting your name and the name of your novel into the public consciousness. Use your ingenuity and remember, even if it doesn't work out this time, your efforts now will also improve your chances of successful marketing next time.
You might also like...