Set up Your Business Workspace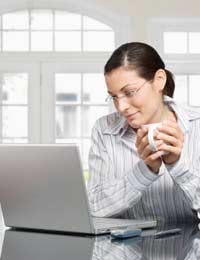 One of the advantages of setting up in business as a writer is that you can do it from home, thereby dramatically reducing your overheads.
These days, more and more people are using ecommerce and sourcing work by using search engine marketing services or e-mail marketing, reducing the need to travel to access resources. Improvements in online storage mean it's cheap and easy to create not only a personal web page but a commercial one with a full portfolio available to support your writing job applications.
But the physical space around you still matters - indeed, you'll find that some potential employers still enquire about it. How should you set up your business workspace for maximum efficiency?
The Basics
What do employers expect you to have in your home office? You will, of course, begin with a computer. Since different employers have different requirements as regards document type, and are sometimes fussy about the operating system you're using, it can be useful to have a dual boot machine with an up to date version of Windows and a Linux partition supporting writing software like OpenOffice which will enable you to save in a range of different formats. If you do this, make sure that you can operate your subsidiary equipment from either.
Your subsidiary equipment should include, at minimum, a good quality printer (laser printers are getting more affordable and are the cheapest sort to maintain, providing high quality output) and a telephone. A recording attachment for your telephone can be useful for interviews and online conferences.
A fax is sometimes requested but is less vital these days, as libraries and companies like Mailboxes Etc. offer easy-access fax services. A scanner is a good idea and a graphics tablet can come in handy if you want to sketch out illustrations to accompany your work.
Despite the importance of computers today, writers inevitably end up dealing with lots of bits of paper. A filing cabinet or similar system is essential to keeping your office in order. It's also a good idea to have a bookshelf within easy reach, for your reference manuals, writers' guidebooks and dictionaries.
Comfort Matters
When thinking about efficiency, it's important to bear in mind that comfort is a part of that. If you're going to be spending long hours sitting at a desk typing then you need to be careful to avoid backache, RSI and carpal tunnel syndrome. If you're going to be staring at a screen a lot, you need to avoid damaging your eyes.
Choosing the right chair for work is extremely important. Swivel chairs make accessing things in your home office much easier, but make sure they're comfortable and that they position you at the right height. When you work, your upper arms should be relaxed and your elbows should be bent at right angles with your hands resting easily on the keyboard.
Your gaze should rest slightly above the centre of the computer screen. Try to keep the screen brightness as low as possible whilst being able to read comfortably. Every hour, look away for five to fifteen minutes and let your eyes rest. Make sure there's plenty of ambient light in the room so that the screen is not the brightest thing present.
The Online Workspace
Once you have established your physical workspace, it's worth thinking about your online workspace. The average writer focused on ecommerce references several different websites every day to keep track of current employers, look for new employers, and keep in touch with industry news.
A well organised personal web page can be a good place to keep bookmarks for all these, to use as a starting point for work (remember that not every part of your personal web page has to be accessible to the public). If you're using e-mail marketing, you can also use this space to organise your contacts and feedback.
Finally, online storage facilities can provide a practical back-up for your important files. It's always a good idea to have a back-up like this in case anything bad happens to your computer.
Setting us your business workspace effectively is a time consuming job, but getting it right will make life much easier for you in the future, so take the time and make things easy for yourself.
You might also like...