What Does a Literary Agent Do?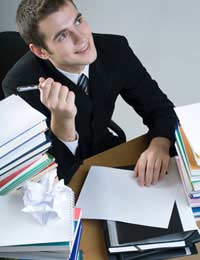 If you tell your friends that you're planning on working as a writer, the chances are that they'll ask you who your literary agent is or assume you're in the process of looking for one.
Everybody knows that literary agents are somehow important to the business of publishing books, but just what is it that they do? How can an agent help to further your writing career, and could you survive in the literary world without one?
Placing Books
The primary task of a literary agent is to help authors place their books with publishers. If the books are good quality, this isn't actually as hard as it might sound, but a good literary agent will be able to place books with good publishers, which is rather harder.
Some publishers refuse to deal with authors directly at all, because they receive so many poor quality manuscripts that way, so in those cases an agent can be essential for getting your foot in the door.
Because literary agents need to be well known to publishers and need to be well versed in all aspects of the industry, theirs is a job which not just anyone can do. It's not uncommon for people to call themselves agents when they lack these credentials, so be careful who you get involved with.
Negotiating Contracts
If you're new to the writing business, you probably think that once you've found a book deal the hard part is over. On the contrary, it's only just begun. Trying to negotiate your own contract with a publishing company which will usually do its best to exploit you is a difficult business, and the chances are that you're not well versed in literary law.
Your agent, however, will be. Because agents are paid on a percentage basis - taking home ten to fifteen percent of what you earn from your work - they have a vested interest in getting you the best deal possible. If your book does well, the chances are that the improved terms you'll get from having an agent negotiate your contract will far outweigh the percentage which the agent takes.
Managing your Career
If you're serious about being a novelist, you'll have started on your second book before you've even sold the first one. Publishers who think a book has sequel potential will often try to negotiate for the rights to things you still haven't written, at which point your agent can step in to make sure you get a good ongoing contract arrangement, reasonable advances and proper support. Your agent can deal with the publishers whilst you get on with the writing.
Although they tend to avoid dealing with smaller, less profitable pieces of work like articles and short stories, agents can be very helpful in organising the rest of your career. They can help you to schedule your workload so that it's easier to manage and they can take care of publicity issues for you, arranging promotional columns and public appearances.
They can also help you to build a career strategy which will enable you to build up your readership and attract increasingly better terms for your work, rather than just living a hand to mouth existence between books.
Ultimately, whilst there are only a limited number of things an agent can do for you which you can't do for yourself, the time and energy which an agent can spare for you can allow you to concentrate on the one thing at which you are uniquely talented: your writing.
You might also like...