Write for a Specific Business Sector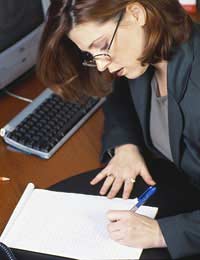 As a general writer competing with others with a lot more experience, it can be difficult to make much progress. Life is very different for the business writing professional. Skilled business writers are always in demand, especially if they are able to provide technical writing services.
Specialising in a particular area of writing like this can also help you to network and to build up a solid base of clients who are likely to commission further work. But technical writing requires dedication and highly specific knowledge. How can you establish yourself in such a complex area?
Use Your Experience
Although there are a good number of business writing opportunities available, business employers tend to hire technical writing professionals only when they have some experience which demonstrates their competence in the relevant area. Making that initial break into the market can be tough. This is a time when it helps to have other experience to draw on.
If you've had other jobs before becoming a writer, or if you've done a degree in a subject other than writing, you can draw on that experience to get your first few technical writing jobs. You don't need to have been responsible for writing work in your previous employment - you just need a thorough understanding of the industry and the subject at hand.
You need to be familiar with industry terminology and you need to be able to understand new subjects related to that industry. As a business writer you may be required to promote products or services, to write up conferences or other events, or to assist with internal business materials.
You may also be asked to produce start-up materials such as business plans for new businesses, or to write technically-orientated press releases for the industry media. You'll need to be able to adapt your existing experience to the projects you're given.
Special Business Writing Fields
There are four fields of business writing where specialist training and experience is essential but where, if you're qualified, you'll find that there are a good many lucrative opportunities available.
Legal writing - Practically all legal writing jobs require a formal legal qualification, but if you've got that then you'll find that there are routes into this profession through working as a legal secretary or through court reporting.
Financial writing - Jobs of this sort are available at different levels in accordance with your qualifications in accounting, finance, economics or mathematics. There are opportunities available both in business writing and in financial journalism.
Health writing - If you have a medical qualification or a good bioscience degree, this is a great area to work in, with a lot of full-time positions available as well as freelance work. Due to the distributed nature of specialist services it helps if you have the option of moving around.
Science writing - Jobs in this area usually require a good science degree, but they're not strictly limited by subject. To increase your chances of success you might consider taking one of the recently established master's degree courses aimed at introducing scientists to the media and communications industries.
With a specialist technical writing skill like this, you'll have access to much better paid and more stable work than the general writer. If you don't have any such qualifications and don't have the time and/or money to acquire them, other lucrative fields which it's possible to get into without that level of formal education include fashion writing, travel writing and food writing.
Marketing your Business Writing Skills
Successful business writers usually emphasise their professionalism by sticking to their specialist fields. This means that if you want to do other kinds of writing as well, it may be best to advertise for them separately. Try to build a specialist portfolio which focuses entirely on the area of business in which you hope to find jobs. Employers see single-mindedness as a good guarantee of ability when it comes to technical writing services.
As you establish yourself in business writing, try to prioritise taking assignments from big name companies which will look impressive in your portfolio. With just a couple of these you'll be able to make an excellent impression so that work will always be there if you're willing to find it.
You might also like...